Pin It
Comments are now closed for the giveaway!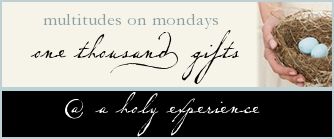 111. Living in a climate where we have just a couple "cold" days every year. The change of pace is nice, but it's pretty nice knowing that within a day or two, the temperatures will be back to normal.
112. For beautiful days like yesterday and today when the sun is shining, the temperature is exquisite (66 as I type this on Sunday afternoon) and the birds are singing.
113. For this song, which has been continually running through my head since I REALLY heard it for the first time last weekend. (As an aside - if you should ever get a chance to go to a Holy Homes conference with Clay and Renee Crosse, you should do it. Maybe I'll post about it sometime.)
114. I've probably been thankful for this before, but Sonic unsweet tea with raspberry is a definite gift!
115. As is sugar-free mocha latte from Sertino's.
116. For sunflower seeds.
117. For listening to my oldest explain the gospel to my youngest this morning in church. He asked her a question and she answered it perfectly, in terms he could understand.
118. For being able to go on a field trip this week to see and hear a performance geared towards children from our local symphony, and for getting a real appreciation for the love the oldest has of music.
119. For my middle one, who is very excited about having a date with me. We had to postpone it due to the weather this week, and when I told her about rescheduling it and made definite plans, she was so excited. I'm excited too!
120. For Ann Voskamp's book -
One Thousand Gifts: A Dare To Live Fully Right Where You Are
. I just started reading it ... and WOW. What a challenge ... and what a blessing.
And with that said -- GIVEAWAY ALERT!!! I want you to experience this book as well, so I bought a copy for you! Well, for one of you, anyway! Just leave a comment on this post to be entered, and make sure I have a way to contact you if you should win. I will close comments Tuesday night and will post the winner Wednesday morning.