Pin It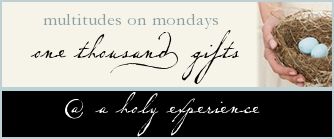 311. For starting our fourth week of school with everyone working together well.
312. For a successful and happy first day of co-op.
313. For walking approximately 735 miles during the first day of co-op. Woohoo for exercise!
314. For getting out of co-op, coming home, and getting our work finished for the day.
315. For a new CD that I am SO enjoying listening to! (And later this week, I want to share it with you and will be having a giveaway for it!)
316. For melatonin, which is helping me to sleep much better.
317. For old memories with friends. And the fact that EVERY SINGLE TIME I make anything with broccoli that requires chopping, I am suddenly 20 years old again, watching Dana Carvey sing about Chopping Broccoli on Saturday Night Live. It's awesome to be all alone in the kitchen getting supper together and having an attack of the giggles that prompts a YouTube search.
318. For the hilarity of a six year old singing "Dream On." Over and over. And over.
319. For spending long hours cleaning this weekend and having a clean family room. It was clean for all of about four hours.
320. For it being nearly bedtime after a long day.