Pin It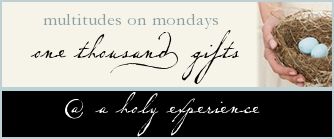 161. Just for spring. I love spring!
162. Blooming azaleas. I know they don't last very long, but they sure are pretty when they're all blooming.
163. For five year old little boys who are very much cuddle-bugs.
164. (Trying to make a positive here ...) For being given AMPLE opportunity to teach a child what it means to keep her behavior above reproach.
165. And for getting to see her heart and learn what is important to her, as we've had some pretty heavy discussions lately.
166. For a fun date night and for the super yummy food from Pappadeaux.
167. For seeing the light at the end of the tunnel for this school year and for the motivation that the light brings even when it's still a ways off. This is the most difficult time of the year for me and school because I am ready to be DONE after spring break. Usually we're doing the Christmas lessons at this time, so at least this year we're on track and I can actually see that light, no matter how far off it is!
168. For other mamas who share my desire to raise godly kids and are willing to do hard things to reach that goal.
169. For unexpected laughter from the mouths of babes. The little one greeted the mailman the other day with "Hi Mr. Mailman! My dog hates you!" Thankfully the mailman has a sense of humor!
170. For grace and forgiveness, both to give and to receive.
I will be linking up with
A Holy Experience
today. Hop on over to read the lists of other people.