Pin It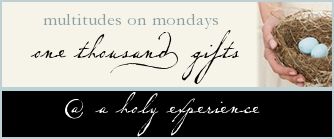 201. For the big shout out that will happen this week when another class is completed! WOOT!! On Wednesday, the middle one will finish fourth grade reading!
202. For the other big shout out that will happen this week as we complete our last class day of co-op. Co-op is a blessing, but always by about the time spring break rolls around, I am ready to be done!
203. For Reese's peanut butter eggs.
204. For the fact that Reese's peanut butter eggs are only available for a short time, and for the fact that I won't have time to go searching the stores for 50% off Easter candy.
205. For a fabulous Easter service, and for the surprise of running into the church and seeing my husband there. He's a
slacker
Chaplain (giggle), and as such doesn't usually get to attend church with us. Occupational hazard. I had no idea he was going to be there today, and we were quite surprised.
206. For what is apparently the best sick leave program in the world. Jim took off Thursday for Mom's surgery and will be off this week to take care of the kids while I run off to take care of Mom. All using sick leave! How awesome is that!
207. For the ability to write up lesson plans for the week and to put them in someone else's hands. Y'all might want to pray for Jim. The girls try to take advantage of him from time to time. I am writing down their assignments in detail, and they do know full well what is expected of them. (Stay strong, Jim. Don't fall for them batting their big brown eyes at you!)
208. For an entirely comical start to our Easter celebration, which will be shared later this week.
209. For MD Anderson Cancer Center.
210. For the fact that mom's surgery went well and that she is recovering at home. She will be going back on Friday to find out what comes next.
For what are you thankful this week? Feel free to jump right in -
A Holy Experience
.