Pin It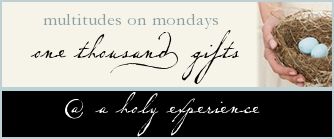 Oh friends, what a fabulous Christmas break we had! It was nice to really take a break and to enjoy family and friends and just some time of relaxation!
71. I facebooked this, but one of the highlights of the week was watching the TOTAL delight my youngest had in fireworks! He was running around the yard from front to back, squealing in excitement. We had neighbors shooting off fireworks all around us and he didn't want to miss a thing. (We chose to live vicariously through our neighbors this year ... haha ... we bought a few sparklers and that was it!)
72. All three of the children spent time with new friends over the break. We have been *SO* blessed in the friend department!
73. I am thankful for the Keurig coffee maker my mom got me for Christmas! I haven't been a huge coffee drinker before, but a cup of decaf with a little splenda and some white chocolate raspberry cream in the morning? Heavenly.
74. I am thankful for having all of the Christmas stuff put away and the house back in order. I love getting it all out, but it's equally nice putting it all back away and reclaiming my house.
75. I am thankful that we will be getting back into our normal routine. The break has been oh so nice, but for myself and at least two of my children, the schedule is a nice relief in and of itself!
76. I am absolutely delighted with where we are in school currently. Today I plan to lightly pencil in the spring semester, then to pencil in January, then to "ink" this week. (Yes, usually I do that on Sunday, but yesterday I took advantage of our last day off to be a little lazy. Or maybe a lot lazy.)
77. I am thankful that we are done with the turkey leftovers. haha! Glad we had them, glad we could stretch them without feeling like "TURKEY AGAIN!?!" but equally glad that the last bit has been tossed in the freezer to be added to a soup or gumbo in a month. (hehe ... now it's time for ham leftovers. Next week! Next week we'll be back to normal meals!)
78. I'm trying to put a positive spin on all the laundry that needs to be done today. I suppose I should say I am thankful for drawers full of clothing, which translate to baskets full of laundry after I take a few days off. Maybe tomorrow I'll be able to report that I am thankful that the laundry is done!
79. I am thankful for cozy fireplaces, hot chocolate with marshmallows, good movies, and cold weather. There is not much better than family movie night!
80. Although 2010 will not go down in my history book as the best year ever, I am thankful for the blessings we did experience. I am also thankful for a new beginning in 2011. As I said in my last post, His mercies are new *every* morning, but there is just something great about starting a new year and having a fresh calendar and a fresh start.
I am linking up with Multitudes on Monday at www.aholyexperience.com today!