Pin It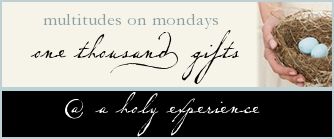 91. For rainy days ... even though I get so tired of rain because it rains a lot here, there is something special about waking up to softly falling rain.
92. For the crock pot, which is my GO TO helper on Sunday nights. We get home from church, I throw supper into the crock pot, and when we get home on Sunday evening, we a meal all ready to go. (Although I still need someone to teach me how to make a "fall-apart" roast in it. I don't know if I buy the wrong type of meat or if I do something wrong or what. I remember my grandmother making a roast that would fall apart if you looked at it, and there would definitely be no knives needed at that table!)
93. And since we're talking about food and crock pots, I am also thankful for soup. I used to not be a very big fan of soup, but now it seems like I can't get enough of it. And I'm not talking condensed soup from a can either! Yummy, thick, hearty, cooking all day and making the house smell like a little bit of heaven soups, that's what I'm talking about!
94. For spending the two hours last week to come up with a plan for my co-op class which covers the whole semester. Now all I need to do is pull it out on Sunday night to refresh my memory and I'm good to go.
95. For a return of motivation in an area which needs it, and has been sadly lacking lately. I don't know what happened, but the motivation has come back, and I am delighted!
96. For the ladies in my Bible study group. I had been considering doing a specific Bible study on my own and then they decided to do it as a group. I will be so much more motivated by having the support of a group!
97. For schoolwork done with happy hearts this week. What an enormous blessing! And even having work done with no reminders from me!
98. For a plan in place for next year. Even though several factors are still up in the air, it's nice to have the beginnings of a plan forming, for all three kids.
99. For grace from my husband when I did something incredibly stupid, and bless his heart, he came home after being gone for a week and I greeted him with a honey do list to fix the incredibly stupid thing I did. And WOOHOO for him fixing it!
100. For reaching #100 on my list! I am 1/10th of the way to listing 1000 gifts! I really am trying to look for things for which to be thankful in all of the situations in which I find myself. :)
I will be linking up with A Holy Experience today! Hop on over and read some other lists and be inspired!