Pin It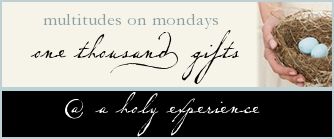 191. The gorgeous weather we are having these days! It's making me want to just sit outside and read a book and enjoy the pleasant breeze.
192. Wherever my oldest child is, there is music. She is either playing the piano or singing along with the radio, or just singing. I love it. It sounds much quieter around the house when she's not here, and she's a pretty quiet child. It's just that when she's not here, the music isn't here. I am thankful for her gift of music.
193. As I am typing this, I'm watching the little one play in the backyard with one of his friends. They're playing in the mud, but having a great time. (My poor friends. They send their kids over here clean and I do not send them back in the same condition.) I'm just thankful for my kids' friends. They all three have a lot of friends, and every single one of them is a blessing to my kids, and to me. :) Several years ago, I prayed that the Lord would help me to love my kids' friends. He has answered that prayer with a resounding YES!
194. I am thankful that Mondays are typically "breakfast for dinner" nights. Everyone likes that, it's easy, and relatively quick with easy cleanup. Doesn't get much better than that!
195. I am thankful that our school year is winding down. The middle one has seven reading lessons left and that class will be done. She has about the same number of math lessons too. We only have one co-op class day left, and then our open house.
196. Both girls have finished their AWANA books for the year. Usually at about the start of May, we end up stalking AWANA leaders and catching them mid-bite on Wednesday nights so the girls can say verses to them. I told them back in September that we weren't going to be doing that this year. :)
197. I am thankful for a mild-mannered dog. After watching a neighbor's dog yap and bounce around INCESSANTLY, I am just thankful for ours, who comes in and wants to be in, or at least in very close proximity to, her crate at all times. She doesn't bark a whole lot, and is getting better about jumping up on the kids (which is a good thing, since she outweighs two of them and is dangerously close to the weight of the other one!) We really did not put a lot of effort into training her at all, it's just her personality, and I really do like it. Even though I'm not a dog person. haha
198. I am thankful for a fun day on Saturday. I went to a ladies' luncheon which was really nice and then with a friend to take some pictures of her daughter's preparation for prom. I enjoyed conversation with my friend and her daughter was simply beautiful. It was a great day!
199. I am thankful to report that so far, the girls' room is still clean. Shocker.
200. With this week being Easter, I am so thankful and humbled at the sacrifice that was made for me. And for you. It is just overwhelming to think about. I am planning to spend some time this week just pondering the cross. That on the days that I feel useless and helpless and hopeless, with no redeeming qualities, He loved me. The very one who made me and KNOWS me finds worth in me.
I know most of my thankful lists are light-hearted things. This one is a big deal though. :) I urge you to spend a few minutes listening to this song and just think about it.
I will be linking up with
A Holy Experience
today. Feel free to hop over and read the gratitude journals of others.